This is my entry for the 2014
spn_reversebang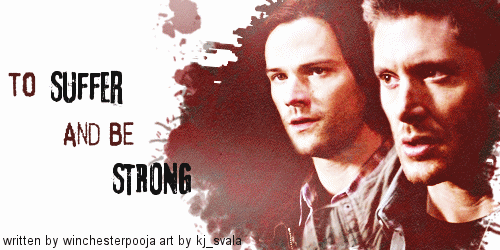 Title: To Suffer and be Strong
Author:
winchesterpooja

LINK: CLICK CLICK

Fandom/Genre: SPN, hurt/comfort, angst, case!fic, gen
Characters: Sam, Dean
Rating: PG-13
Word Count: ~21k

Warnings: swearing, violence, gore

Summary: A run-of-the-mill job turns out to be much more complicated when Sam and Dean find themselves in a fight that is more than just physical to them.


This is the graphic I`ve sent

This is the 1st time I`ve signed up for the SPN_Reverse_Bang, and I`m more than happy that winchesterpooja choose my graphic.

I take the chance to say THANK YOU! to winchesterpooja who wrote an awesome story based on the graphic. It`s amazing to see what she came up with. I`m a happy camper :D

I love each and every word of the story! I`m sure everyone who`s going to read it will love it as much as I do.
entry is also posted to

- Dreamwidth CLICK CLICK

- AO3 CLICK CLICK
Comm info: I`ve added a reversebang tag because I have more RB`s coming up, for NCIS